Death.
It happens to everyone, even writeres, and you can't escape it.
Today, I want to talk about three authors that died to soon, leaving behind grieving family members, friends, but also readers.
Let's start with an author I talked about in my last post, Ned Vizzini.
Vizzini commited suicide on December 19, 2013.
The thing that bothers me the most about his death is that even after spending time in a psychiatric ward in his early 20s, even after writing a book about depression and suicide, Vizzini was not able to save himself.
I'm lucky because I never suffered from depression, though I did and still do experience blues from time to time, like any other teenagers. Reading It's Kind of a Funny Story gave me a look on teenage depression and it opened my eyes to a lot of things. I can only imagine what this book could mean to someone sharing Craig's feelings.
Ned Vizzini knew what he was talking about and he had the perfect way to help others, through his stories. It's a shame he will never be able to write again and it's a shame that the world won't have any more occasions to share his beautiful universe.
Now, I want to talk about a French author that I appreciate very much, Pierre Bottero.
Pierre Bottero died in a motorcycle accident on November 8, 2009.
As I mentioned in this
post
, Bottero is one of my favorite authors. Everything he wrote is magic! His stories are mesmerizing and I would give anything to have a chance to talk to him face to face. You know when readers talk about their go-to authors? The ones that they would read when nothing else seems good? The ones they would re-read over and over again? Pierre Bottero is one of those authors for me; though I did read all of his YA books, I would go back to them anytime.
Last but not least is the great Terry Pratchett.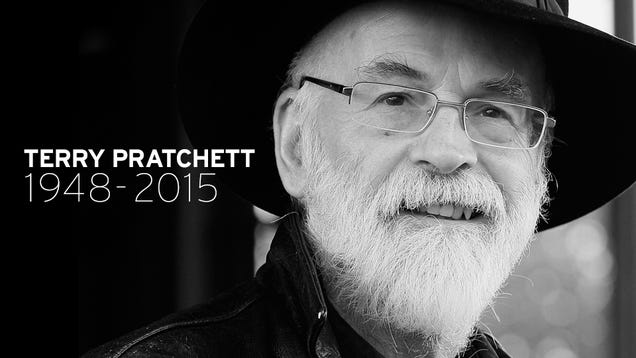 Alzheimer's desease took his life on March 12, 2015.
On Pratchett's official Twitter account, his assistant wrote :
A

t last,
S

ir
T

erry, we must walk together.
Terry took Death's arm and followed him through the doors and on to the black desert under the endless night.
in referene to the way the character of Death speaks in Pratchett's work.
I was sad to hear about this news because I had only discovered the Discworld series in the last year. I wish I would've had more time to appreciate Terry Pratchett' work, heck maybe even communicate with him! He was a great writer and he will forever be a role model in the world of literature.
A lot of other amazing writers died throughout the years, but these three are the ones that affected me the most. It's a shame to have lost all of them really...
Share in the comment the deaths that affected you in the world of literature.
Sophie